carrying baby
While US and European babies have been raised for generations watching the world from baby carriages, Kinderwagen, pushchairs, spacerówki, strollers, carrozzine, buggies, etc.... babies in most other parts of the world have been carried - either by their mothers or by other relatives. It would seem that pushing a baby in a contraption would sure be easier on the back!, and gives the parents lots of flexibility. But, it also would seem that this efficiency for the parents has a price to pay for the babies. And, I wonder about the idea of flexibility when I see parents struggling to fold their buggies, or maneuver them into elevators. I do wonder about that back issue though! If we carry our babies, are our backs and pelvic floor muscles stronger?
The Continuum Concept: In Search Of Happiness Lost (Classics in Human Development)
argues that in order to achieve optimal physical, mental and emotional development, human beings — especially babies — require the kind of experience to which our species adapted during the long process of our evolution. For an infant, these include such experiences as… constant physical contact with his mother (or another familiar caregiver as needed) from birth; sleeping in his parents' bed, in constant physical contact, until he leaves of his own volition; breastfeeding "on cue" — nursing in response to his own body's signals; being constantly carried in arms or otherwise in contact with someone, usually his mother, and allowed to observe (or nurse, or sleep) while the person carrying him goes about his or her business — until the infant begins creeping, then crawling on his own impulse, usually at six to eight months.
carrying an older baby, Ghana
here, the filmmaker also has a go at wrapping the carrying shawl...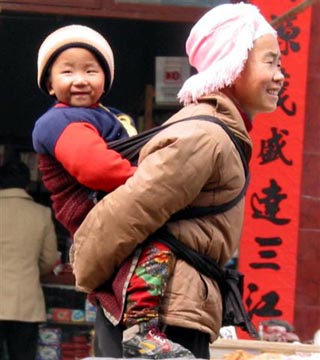 Past and present still the same: Minorities in China have been carrying their children on their back for generations. [View source]
from http://www.orientaloutpost.com/aboutchina.php
For lots of articles and descriptions of different types of slings and the advantages of carrying your baby, see Mothering.com
Honduras.. interesting method
Learn how to carry your baby
No words necessary, and a loving father, too.
carrying newborn baby in a sling, a slow and detailed description in German
Interested in more? Here are other articles: